WHAT IS PSORIASIS?
---
Psoriasis is an autoimmune disorder that speeds up the life cycle of the cells and cells start to come to the surface before time.
PSORIASIS IS CHARACTERIZED BY AN ABNORMALLY EXCESSIVE AND RAPID GROWTH OF THE EPIDERMAL LAYER OF THE SKIN.
In psoriasis there are abnormal red, itchy and scaly patches of skin. The patches may be small and localized or may be covering the whole body.
There are main five types of psoriasis: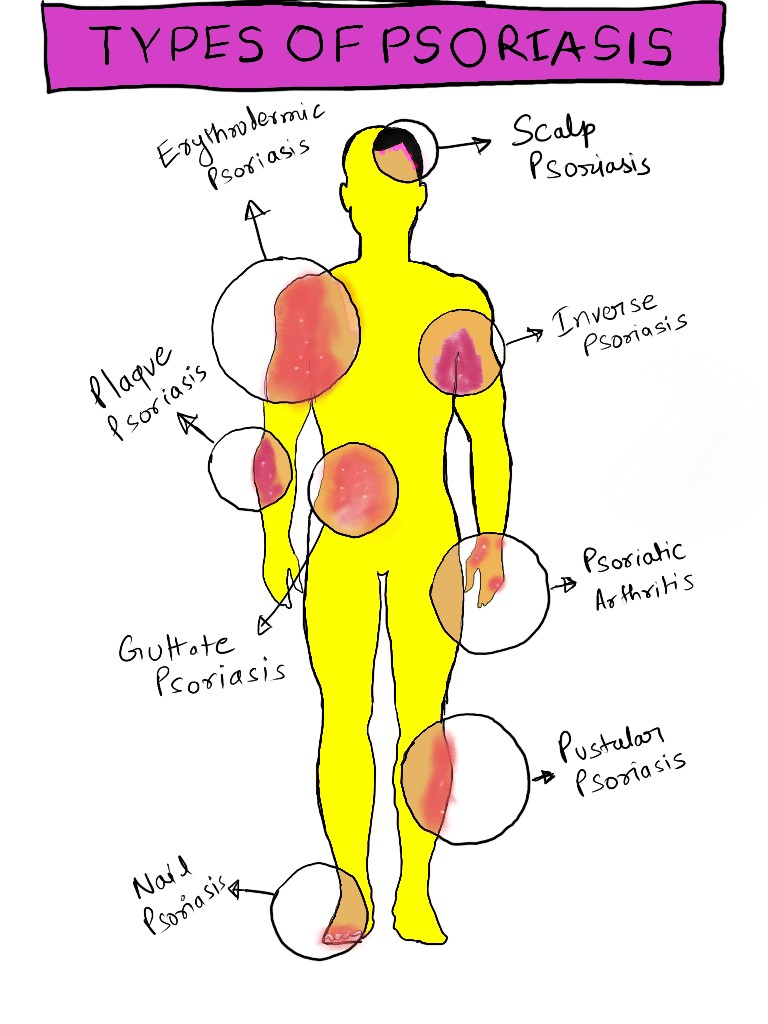 1. Plaque Psoriasis- also known as psoriasis vulgaris (90% cases) typically presents with red patches with white scales on top. Areas affected- back of forearms, shins, around the navel and the scalp.
2. Guttate Psoriasis- has drop shaped lesions and starts in childhood or young adulthood. Triggers may include injury to skin, stress, strep infection or respiratory infection.
3. Pustular Psoriasis- presents with small non-infectious pus filled blisters on palm or feet.
4. Inverse Psoriasis- forms red patches in skin folds such as the armpits, groin area, and under the breasts.
5. Erythrodermic Psoriasis- occurs when the rash becomes very widespread and can develop from any of the other type. This is seen after leaving the treatment in which there is fiery red, shedding scales. May be seen after infection or sunburn also.
Fingernails & Toenails are affected in most people at some point of time.
SYMPTOMS & CAUSES
---
Symptoms
1. Red, itchy, silvery scaly patches which may be painful sometimes and bleed also.
2. The fingernails may get discolored with pitting and start to detach from the nail bed.
3. In psoriatic arthritis joints are also involved which cause inflammation of joints and connective tissues. It causes pain in joints.
Causes
Exact cause for psoriasis is unknown. Psoriasis being an autoimmune disorder is thought to be caused by abnormality in the immune system. It may be flared up by emotional stress, infection, skin injury, strep infection, family history of psoriasis.
DIAGNOSIS & TREATMENT
---
Physical examination- Red, itchy, silvery scaly patches which may be painful
Skin biopsy to rule out other skin conditions.



Treatment
Treatment usually involves topical ointments, light therapy and certain oral or injectable medicines but they don't give permanent relief to the patient and flareups are commonly seen.
MANAGEMENT
---
1. Moisturization of the rashes would sooth the rashes and would relieve itching, dryness and scaling
2. Quitting smoking may also help in relieving psoriasis.
3. Managing stress would help control flareups.

HOMEOPATHIC MANAGEMENT
Medicines like sulphur, graphites, tuberculinum, calcarea carb, psorinum, sepia, thuja etc are of the few medicines which are very effective in treating psoriasis depending on the constitution of the individual.
DO's AND DON'Ts
---
Do's
1. Keep the skin moisturized
2. Take care of the flareup triggers like emotional stress
3. Quit smoking
4. Fish may be added in the diet which may help psoriasis



Don'ts
1. Don't scratch the rashes.
2. Maintain hygiene.
3. Keep your nails clip short.
Watch our video on Psoriasis by Dr Jyoti Singh