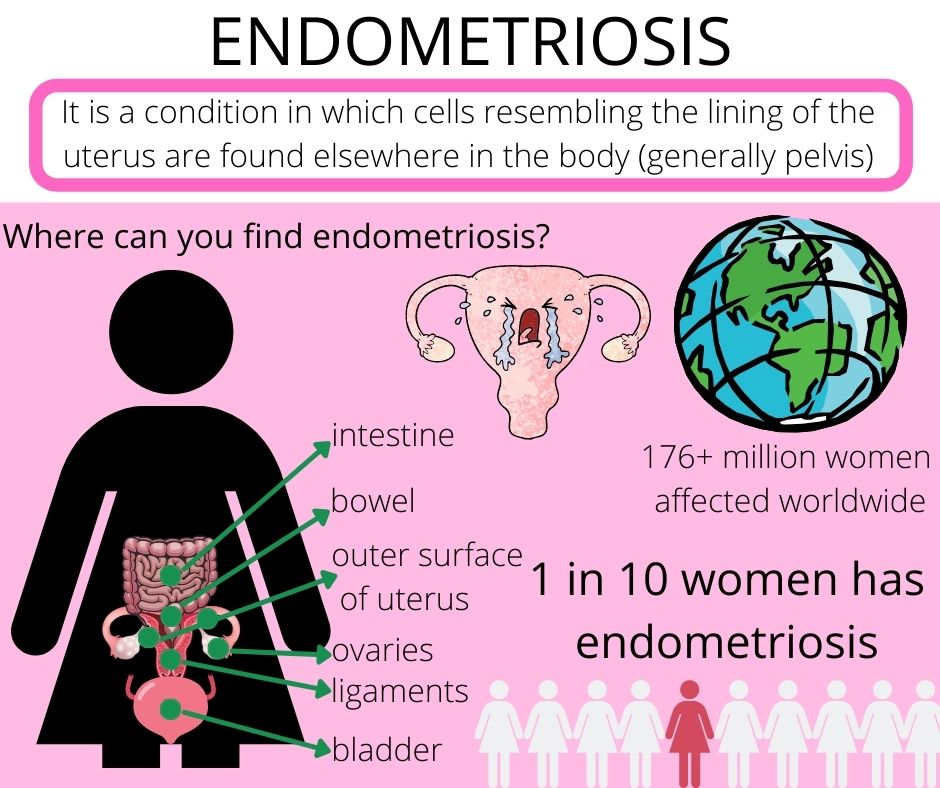 WHAT IS ENDOMETRIOSIS?
The lining of the womb (uterus) is known as the endometrium. Endometriosis is a condition in which the endometrium is present outside of the uterus as well. Usually, the ectopic endometrium is seen in the lower abdomen only (ovaries, Fallopian tubes, pelvis) but endometriosis may rarely spread to parts other than the pelvis and can appear anywhere in the body.
In endometriosis, the endometrium present at abnormal sites also responds to each menstrual cycle. So the endometrium outside the uterus also thickens, breaks, and bleeds with each cycle of menses.
Since the abnormal sites of endometrium in endometriosis have no way of exiting to discharge out the blood, cysts are formed entrapping the discharge. The surrounding tissues are also irritated causing adhesions and the organs stick to each other.
Sometimes there are no symptoms in mild endometriosis but mostly women suffer from severe pain during periods, during sexual intercourse and infertility can also occur.
WHAT ARE THE FOUR STAGES OF ENDOMETRIOSIS?
The classification is made on the basis of the number of lesions and the depth of involvement:
STAGE 1: Minimal and few superficial implants
STAGE 2: Mild and deeper implants are seen
STAGE 3: Moderate and deeper implants are visualized along with the involvement of the ovaries. There is the presence of small cysts in one or both ovaries along with mild adhesions in the pelvis.
STAGE 4: Severe and many deep implants are seen with large cysts in the ovaries (one or both). Adhesions are also deep and denser.

WHAT ARE THE RISK FACTORS FOR ENDOMETRIOSIS?
Several factors might expose you to endometriosis, such as:
NULLIPAROUS:

never giving birth can trigger endometriosis.

EARLY MENARCHE:

early onset of menses during puberty.

LATE MENOPAUSE:

having menses till old age can trigger endometriosis.

OESTROGEN:

high levels of estrogen can also cause endometriosis.

BEING THIN:

being underweight can also cause endometriosis.

SMOKING:

can predispose to the development of endometriosis.

ALCOHOL:

consumption in large amounts on regular basis can also trigger endometriosis.

FAMILY HISTORY:

endometriosis can also be a factor.

UTERINE ABNORMALITIES:

which trap the menstrual flow can also cause endometriosis due to inflammation.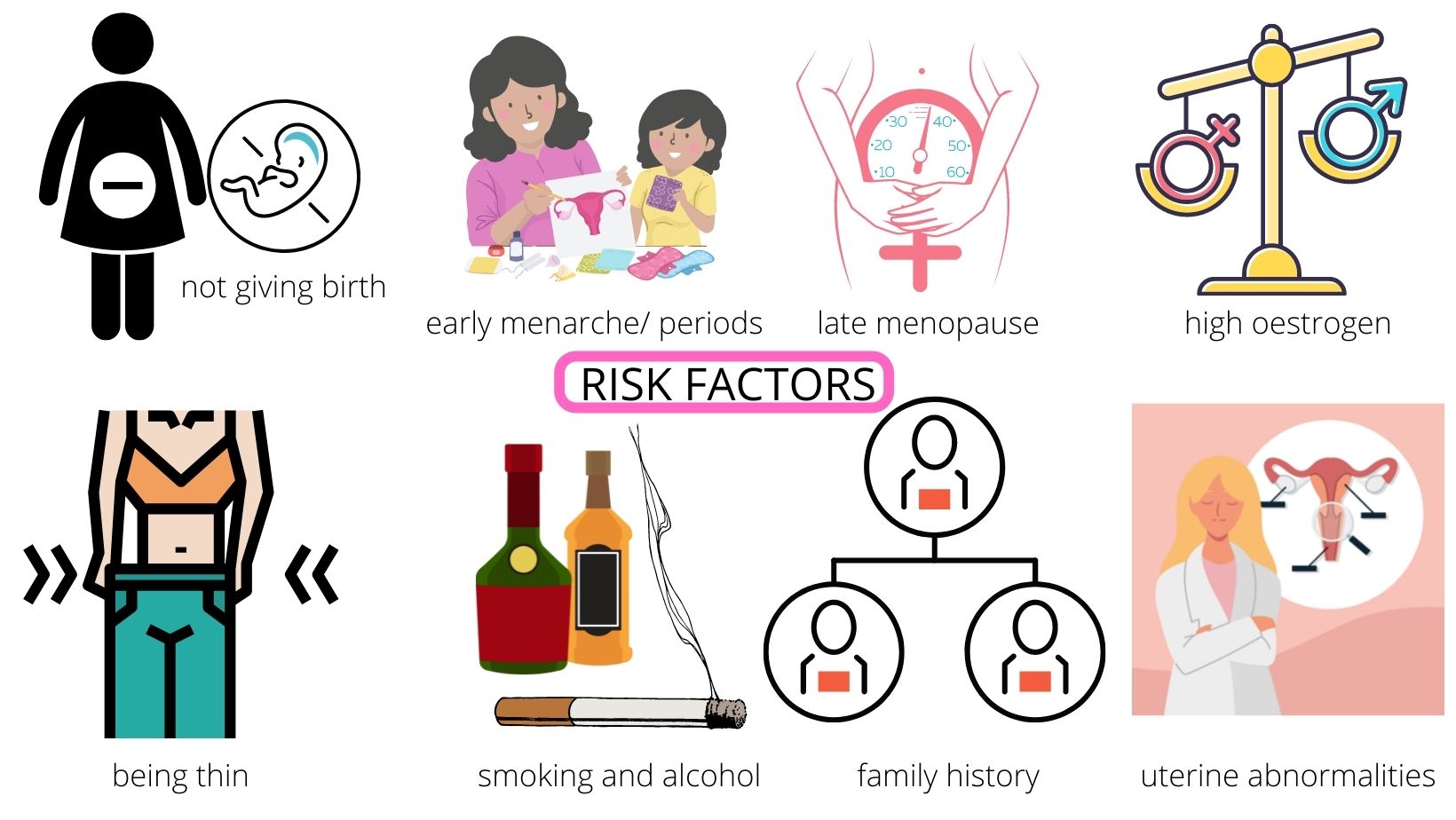 WHAT ARE THE COMPLICATIONS OF ENDOMETRIOSIS?
INFERTILITY:

females with endometriosis have difficulty in conceiving. Endometriosis may obstruct the way of egg or sperm thus preventing fertilisation.

OVARY CANCER:

endometriosis may predispose to develop ovarian cancer at a higher rate than expectation.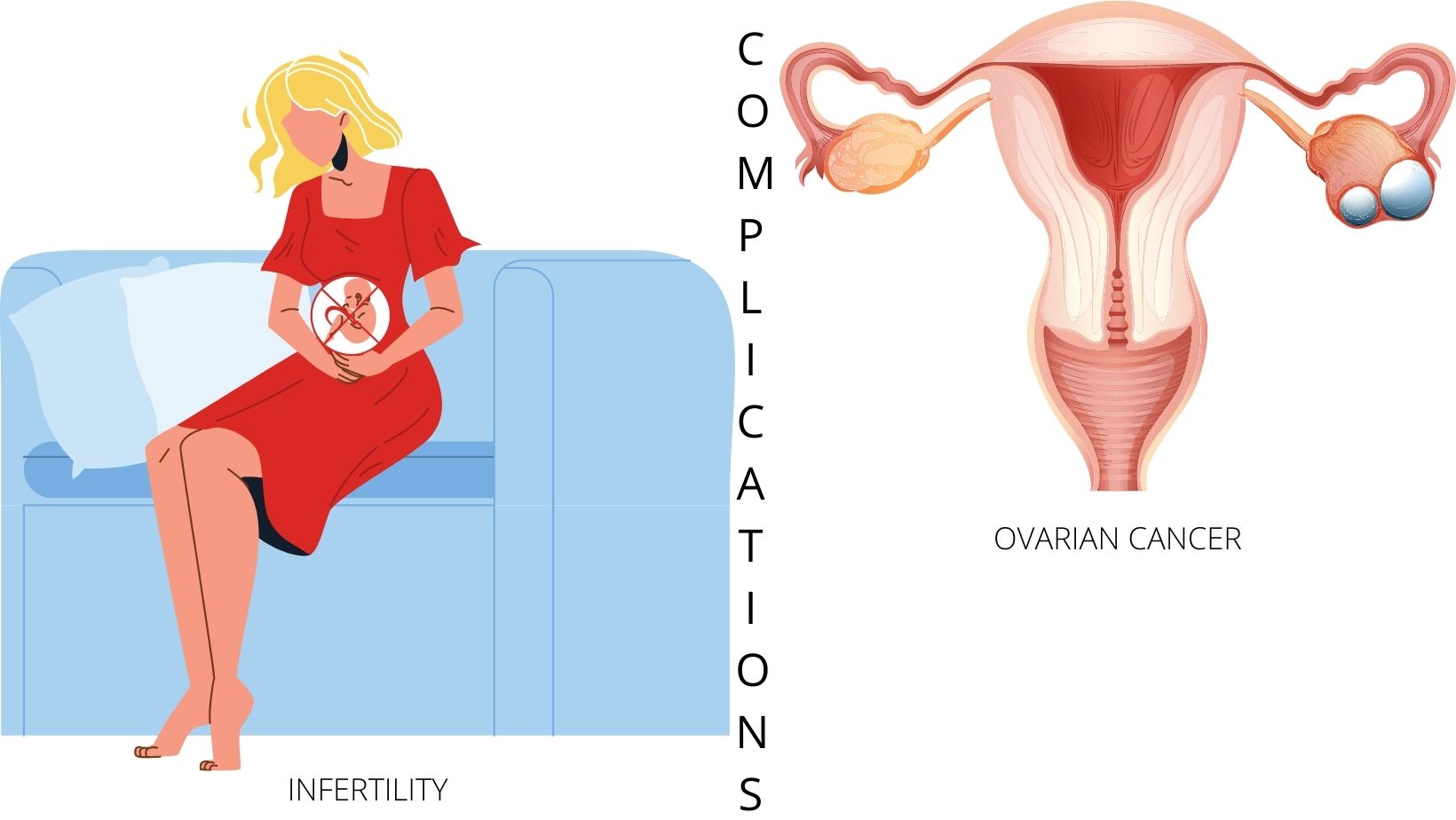 WHAT ARE THE CAUSES OF ENDOMETRIOSIS?
BACKFLOW OF MENSTRUAL BLOOD:

would cause sticking of endometrial cells to stick to the ovaries, Fallopian tubes, or in the pelvic cavity, and they would grow there and bleed there.

TRANSFORMATION OF PERITONEAL TISSUES:

endometrial tissues would cause endometriosis.

OESTROGEN:

can trigger the transformation of tissues in the fetus to endometrial tissues at abnormal places. Prolonged administration of estrogen in adult life can also trigger the transformation.

SURGICAL SCAR:

hysterectomy or cesarean section may cause sticking of endometrial tissues to the scar causing endometriosis.