WHAT IS A MIGRAINE?
Migraine is severe pulsating pain in the head usually one-sided preceded by an aura of sensory disturbance and can be triggered by various things.
Migraine is a primary headache disorder characterized by recurrent headaches that are moderate to severe. Typically, the headaches affect one-half of the head, are pulsating in nature, and last from two to 72 hours.
Associated symptoms may include nausea, vomiting, and sensitivity to light, sound, or smell. The pain is generally made worse by physical activity. Up to one-third of people have an aura: typically a short period of visual disturbance which signals that the headache will soon occur. Occasionally, an aura can occur with little or no headache following it.
WHAT ARE THE TRIGGERS FOR MIGRAINE?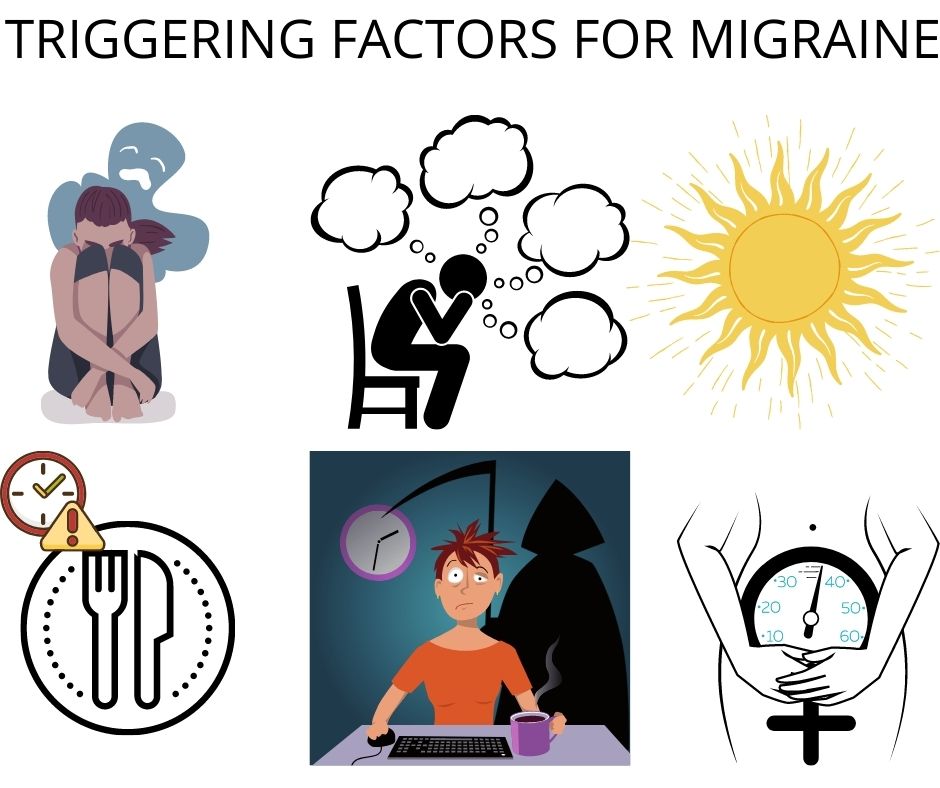 WHAT ARE THE RISK FACTORS TO GET A MIGRAINE?
THERE ARE FOUR PHASES OF MIGRAINE!!
Prodrome phase- occurs hours or days before the onset of headache and is characterized by altered mood, depression, fatigue, craving for certain food items, neck stiffness, constipation or diarrhea, sensitivity to light, noise, odor.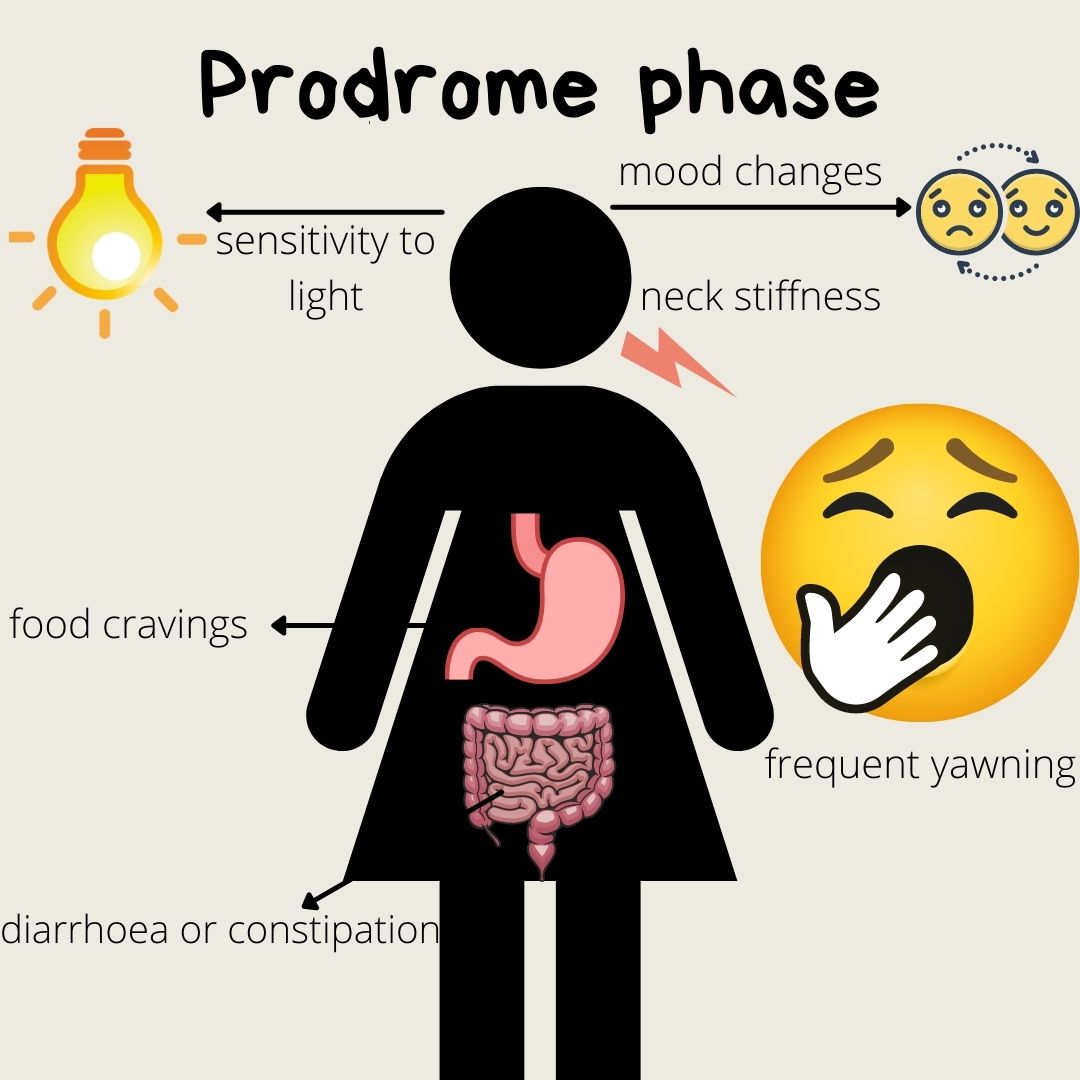 Aura phase- precedes headache and aura may be visual (Blind spots or blank patches in the vision, zig zag lines in vision, flashes of light, blurred vision), sensory (Pricking sensation on the skin), or motor. Other symptoms of the aura phase include speech disturbance, dizziness, auditory hallucinations, delusions.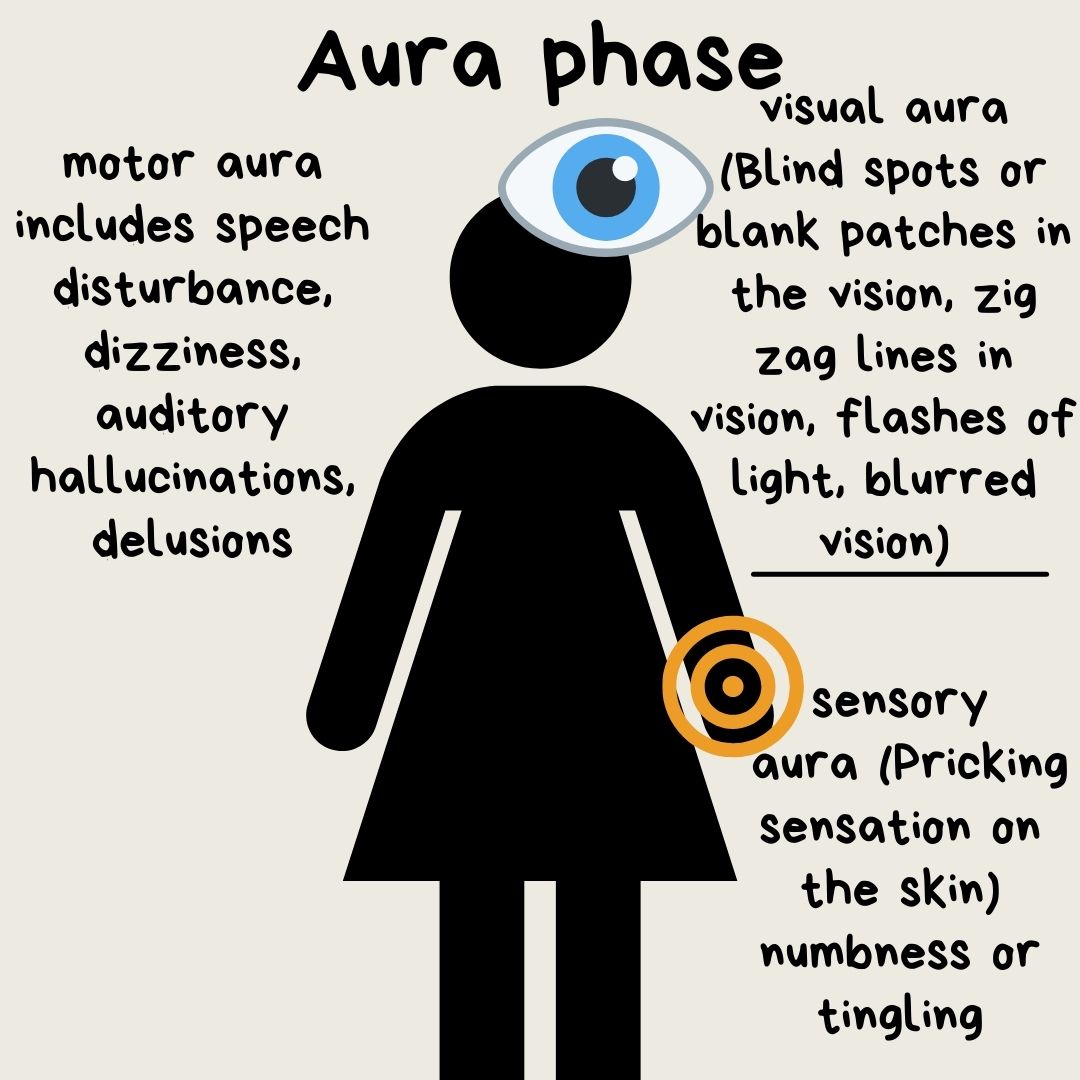 Pain phase- usually headache is one-sided, throbbing/ pulsating pain which is moderate to severe in intensity and pain lasts for 2 to 72 hours. Pain is frequently associated with nausea, vomiting, sensitivity to light, sound, smells and fatigue with irritability, light-headedness, confusion.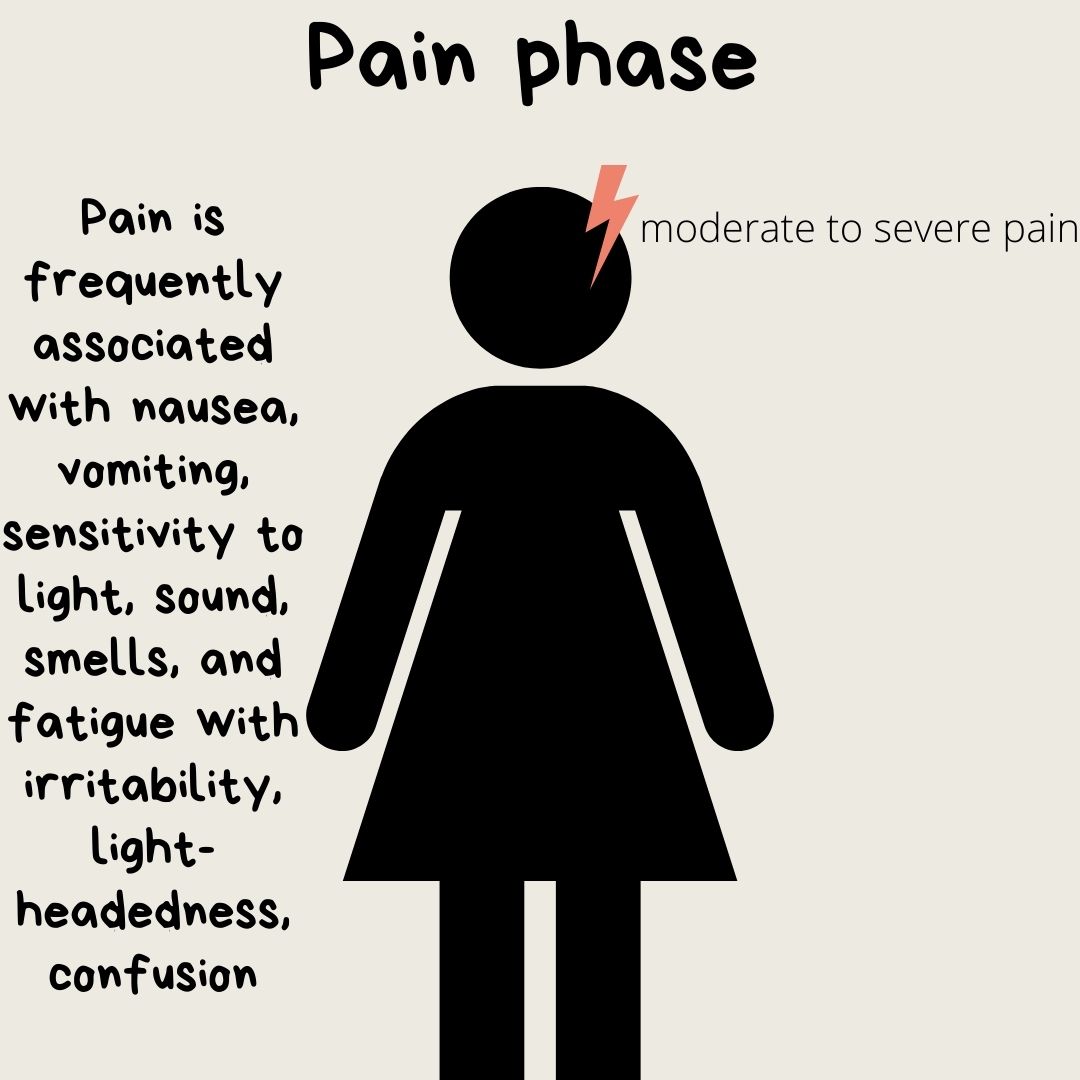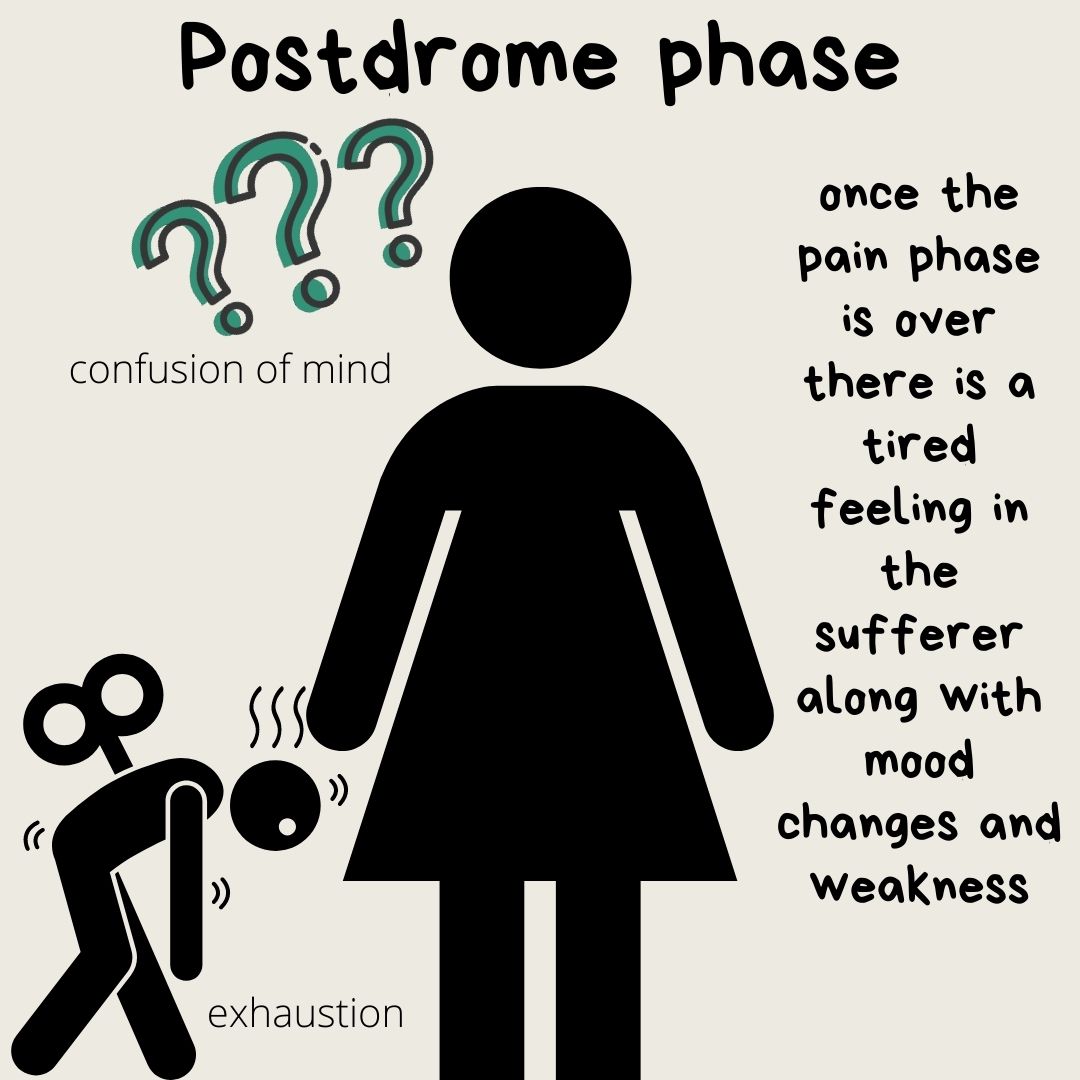 WHAT ARE THE SYMPTOMS OF MIGRAINE?
Common symptoms of migraine include:
Moderate to severe pain, usually one-sided but can involve the whole head and either side.

Severe throbbing, pulsating pain.

Pain is severe enough to affect daily chores.

Nausea, vomiting as associated symptoms.

Increased sensitivity to stress, light, noise, smell, physical activity.

Pain relieved by lying in a quiet dark room.

Few people also have an aura (a short period of visual disturbance that signals that the headache will occur soon).

Headache lasts for 2 to 72 hours.

WHAT ARE THE SYMPTOMS OF MIGRAINE WITH AURA?
Aura is meant by warning signs in the sufferers which are preceded by the onset of headache however auras are rare.
Common symptoms in the aura are:
Confusing thoughts or experiences

Perception of strange, sparkling, flashing lights.

Blind spots or blank patches in the vision.

Pricking sensation on the skin.

Stiffness in shoulders, neck, limbs.

Unpleasant smells.

WHAT ARE THE POSSIBLE CAUSES OF MIGRAINE?
The exact cause of migraine is unknown but there is the abnormal activity of the brain temporarily affecting the nerve signals, chemicals, and blood vessels of the brain.
However, triggers of migraine are known-
Hormonal changes- women experience migraines usually 2 days before menses due to hormonal changes (estrogen) and there is improvement usually after menopause.

Emotional triggers- include stress, anxiety, tension, shock, anxiety, depression, excitement.

Physical triggers- include tiredness, lack of sleep, jet lag, low blood sugar, etc.

Dietary triggers- include skipping meals, long working hours in front of the screen, smoking, strong smells, etc.

Medicines- like combined contraceptive pills, hormone replacement therapy, etc.
HOW TO GET THE DIAGNOSIS FOR MIGRAINE?
Migraine can only be diagnosed depending on the presenting symptoms, medical history, family history, physical and neurological examination. Tests are usually performed to rule out other causes of headaches.
WHAT IS THE TREATMENT FOCUS FOR MIGRAINE?
Relieve the pain.

Manage the triggers.
WHAT ARE THE MANAGEMENT STEPS FOR MIGRAINE?
Prepare a headache diary.

If possible, avoid exposure to triggers of migraine.

Do regular exercises.

Prepare and follow a consistent daily schedule with regular sleep patterns and meals.

Meditation.

Have plenty of water.

Homeopathic treatment.

WHAT IS THE HOMEOPATHIC MANAGEMENT FOR MIGRAINE?
Homeopathic medicines for migraine are:
Natrum Mur

Onosmodium

Glonoine

Pulsatilla

Sepia

Tuberculinum

Silicea

Psorinum

Hepar sulph

Rhus tox

Bryonia
There are many wonderful medicines in homeopathy that can be thought of in migraines. After a thorough evaluation of the case, the medicine is selected and prescribed depending on the totality of symptoms of the patient.
WHAT ARE THE DOS And DON'Ts FOR MIGRAINE?
Do's
Do regular exercise

Take regularly scheduled meals, don't skip meals

Take adequate sleep

Do meditation

Prepare a headache diary.

Avoid triggers

Take plenty of water
Don'ts
Don't do things that trigger migraine

Don't stress your body much
WATCH THE FULL VIDEO ON MIGRAINE TO UNDERSTAND MORE!!