AN OVERVIEW OF DRY SKIN
The skin is the first line of defense to prevent the entry of microorganisms into the body and towards the environment also. Skin needs water and naturally occurring oils to stay supple, stretchy, and soft. Dry skin is a condition affecting a number of people that happens when the body is deficient in all the water required and the essential natural oils as well to maintain the supple texture. Even oily skin can turn dry from time to time.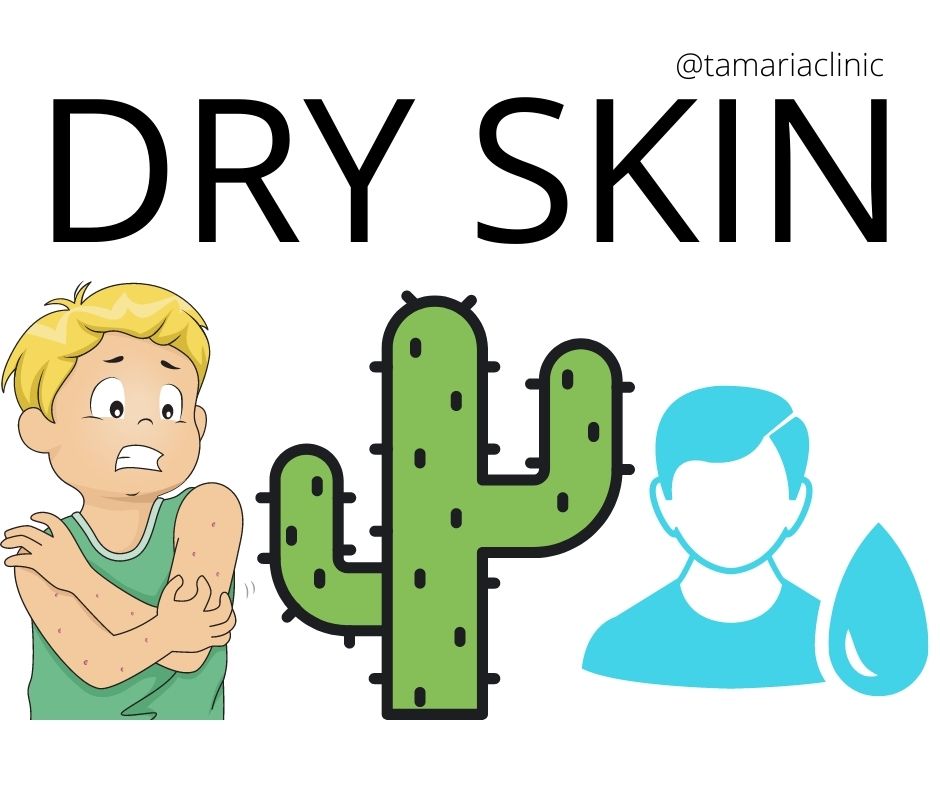 Dry skin isn't a serious condition and may result from hot or cold weather, less moisture in the air, and bathing with too hot water. Such cases can be managed by taking care of the cause and by moisturizing the skin. Symptoms may range from mild to severe depending on the condition involved:
Skin tightness with patchiness and scaling

Rough appearance and feel of skin

Itching

Cracks in the skin that may turn red on scratching and bleed as well

Wrinkled or loose skin
WHAT ARE THE CAUSES OF DRY SKIN?
Looking at the causes of dry skin; the environment plays a major role in how your skin texture would be apart from a few diseases as well that may affect your skin.
Winter weather causes dryness of skin as the atmosphere lacks moisture.

Using artificial heating modes like central heating, wood stove, heaters and fireplaces reduce the moisture in the air and cause dry skin.

Hot baths and soaking in hot water for a long time causes dry skin.

Harsh body soaps and working with detergents for a long time also kills the moisture of the skin.

Several skin conditions also cause dry skin like eczema, psoriasis, etc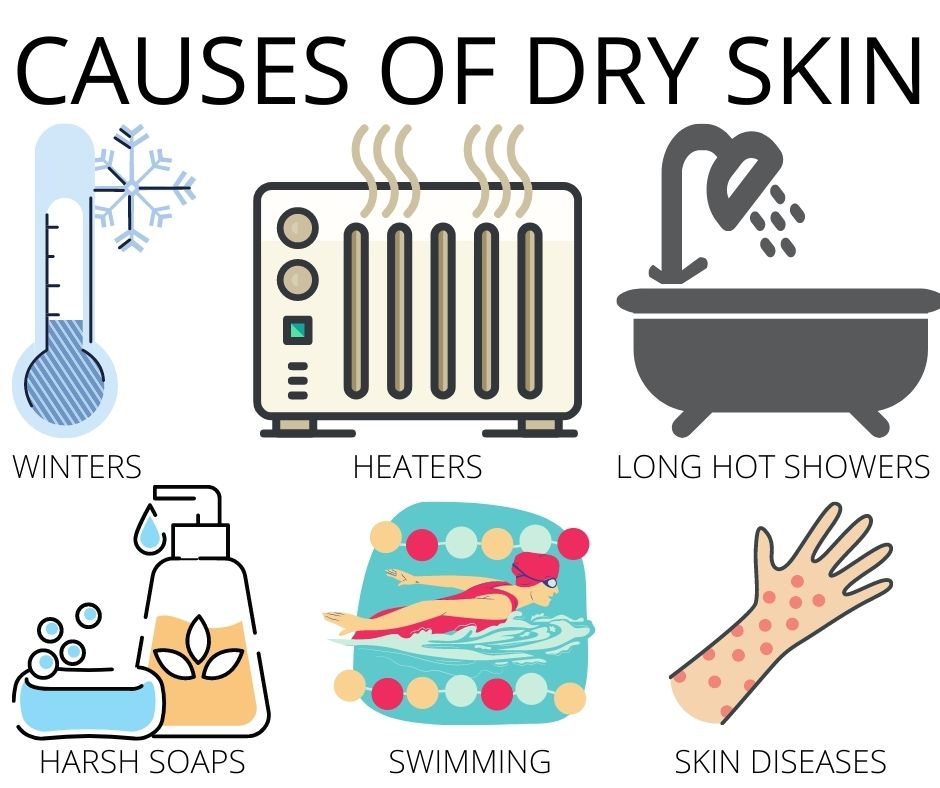 WHAT ARE THE RISK FACTORS FOR DEVELOPING DRY SKIN?
Anyone can develop dry skin but a few factors make you more prone to have dry skin:
Advancing age: when you are in your 40's or more the skin tends to become dry.

Living in a cold dry climate.

Long exposure to waterworks.

Swimming more in chlorinated water.
WHAT ARE THE COMPLICATIONS OF DRY SKIN?
Generally, the dry skin can be taken care of by making a few changes but if it is left for a long time in the same situation then a few complications can arise as skin is the first defense to microbes so cracks can lead to the entry of germs and can cause infection.
If you are prone to have atopic dermatitis or eczema then you must take care of your skin and try to retain moisture else the condition can progress to severe dryness and can lead to cracks and bleeding also.
HOW TO PREVENT AND MANAGE DRY SKIN?
Lock the moisture and apply moisturizer on the skin especially soon after bathing.

Keep yourself well hydrated all the time.

Limit your exposure to water.

Take bath with lukewarm water only and avoid hot water baths.

Don't use harsh soaps and chemicals on the body.

Keep yourself covered during winters.

Use gloves while working in water.

Jojoba oil maintains all the essential oils so you can use it.

Use petroleum jelly as it helps in insulating the dry skin from the environment.

Take care of the underlying disease if any.

Use humidifiers if you live in a dry climate.

Use cotton fabric as it is breathable and avoid woolen and synthetic clothing.
WHAT IS THE ROLE OF HOMEOPATHY IN THE TREATMENT OF DRY SKIN?
Homeopathy can help in retaining moisture and treating the underlying disease if any. People who have a tendency to lose moisture of the skin can use homeopathy for establishing proper moisture again.
Skin conditions like eczema, psoriasis, keratosis pilaris can be very well managed with homeopathy without any side effects and permanently as well.