FOODS TO BE ADDED TO PCOS DIET
1. HIGH FIBRE FOODS: High fiber foods help in slowing down digestion thus doesn't cause a sudden hike in blood glucose levels. Options for high fiber foods are:
Broccoli

Sweet potato

Pumpkin

Beans

Lentils

Fruits
2. LEAN PROTEIN: Lean proteins are filling and thus can keep you full for long. Options are:
3. ANTI-INFLAMMATORY FOODS: Inflammatory foods such as refined grains can cause inflammation in the ovaries that further increases the levels of androgens. So one should avoid such foods and opt for anti-inflammatory food items like:
Turmeric

Garlic

Tomatoes

Almonds

Walnuts

Strawberries

Salmon

Olive oil
FOODS TO LIMIT OR AVOID IN PCOS
1. REFINED CARBS: cause inflammation and can further worsen insulin resistance thus should be avoided in the diet. Example are:
White bread

Muffins

Pastries

Refined flour (maida)

Pasta noodles
2. SUGARY SNACKS AND DRINKS: Sugar causes inflammation and glucose surge in the body. Items high in sugar are:
Carbonated drinks

Anything having refined sugar
3.INFLAMMATORY FOODS: Inflammatory food items trigger inflammation in the ovaries thus increasing more levels of male hormones. Food items to be avoided are:
Red meat

Processed food

Packaged food

Refined grains

Fries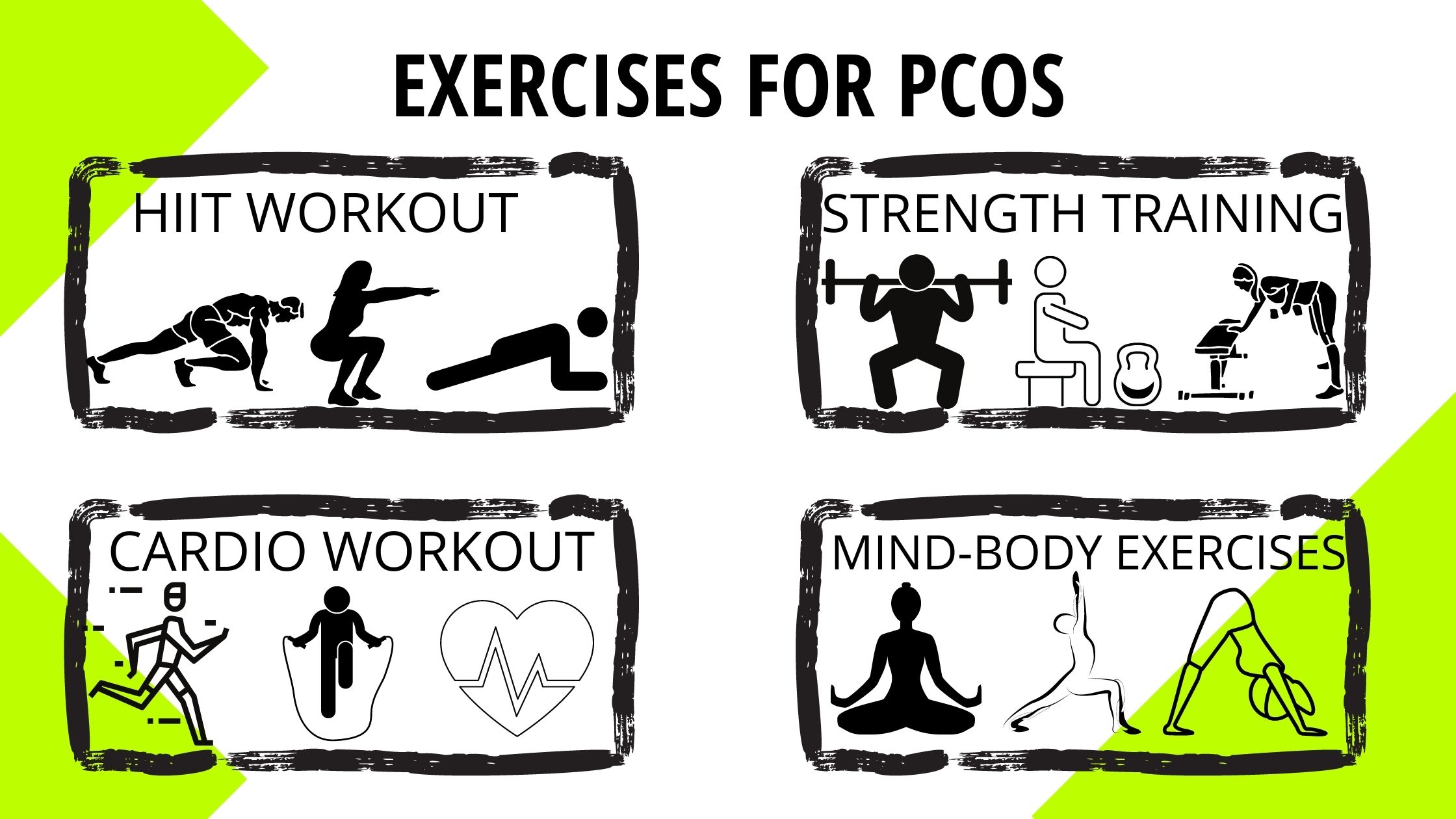 ROLE OF EXERCISE IN PCOS
A proactive lifestyle is key to get rid of PCOS as it responds positively to it. Exercise helps in boosting up the metabolism that helps in reducing weight. Exercise also helps in regulating the hormones thus regulating menses and ovulation.
Exercises should be focused on lowering the BMI and managing the weight.
Following are the types of exercises you can consider for PCOS:
1. HIIT WORKOUT: High-intensity interval training focuses on high-intensity workout circuits with time intervals. Exercises like burpees, mountain climbers, jumping jack, butt kick, etc are involved in this. Sample HIIT workout for 20 minutes is given below:
50 seconds burpees 10 seconds rest
50 seconds jumping jack 10 seconds rest
50 seconds side planks 10 seconds rest
50 seconds other side planks 10 seconds rest
50 seconds push-ups 10 seconds rest
50 seconds mountain climbers 10 seconds rest
50 seconds high knees 10 seconds rest
50 seconds side lunges 10 seconds rest
50 seconds squats 10 seconds rest
50 seconds jumping lunges 10 seconds rest
Rest for 1 minute and repeat the circuit again
2. CARDIO WORKOUT: These workouts pump the heart more and increase the heart rate. This includes running, cycling, skipping rope, etc
3. STRENGTH TRAINING: Strength training involves resistance bands, weights, and using your own weight to build muscles and cut down the fat deposited in the body. These workouts have the benefit that calories are consumed even in resting time as muscles would increase combustion of oxygen and approx 60 calories are required to maintain one muscle. Sample workout is as below:
10 reps- Dumbell incline butterfly
4. MIND-BODY EXERCISES: Woman with PCOS reacts abruptly to stress and sometimes there is more stress in their daily life which triggers and aggravates the situation. Yoga and Pilates help a lot in releasing stress. Few yoga poses are:
Pranayams - Anuloum vilom, Kalapbhati
TO GET RID OF STRESS IN PCOS:
Do meditation

Take a walk

Spend time in nature

Talk to someone about your issues

Meditation

See the sun

Limit sugar

Remove all the triggers that cause stress.
12 TIPS TO MANAGE PCOS EFFICIENTLY
Regular physical exercise is essential to get rid of the rigid weight gain of PCOS.

Being physically active would also help to fight insulin resistance thus would help in the management of symptoms of PCOS.

Meditation and yoga would help the mind and body to relax as PCOS may cause stress. Thus meditation and yoga would help in keeping the physical and mental stress low.

To fight insulin resistance high fiber diet should be taken as it is going to slow down the digestion and thus sugar levels would not rise suddenly. Food items like broccoli, cauliflower, sprouts, lettuce, arugula leaves, bell peppers, beans, berries, zucchini, almonds, sweet potato, pulses, etc are rich in fibers and are good for the patient with PCOS.

Another dietary change that one should do is to take light food which is filling and don't give many calories such as tofu, chicken, fish, etc

Food items that have anti-inflammatory properties (tomatoes, spinach, strawberries, blueberries, olive oil, etc) would also help the patient with PCOS.

Refined carbohydrates should be avoided as they are going to exaggerate the symptoms by aggravating insulin resistance. Food items like white bread, muffins, potatoes, white flour, etc should be avoided.

Refined sugar should be avoided.

Eat a large breakfast and cut down your dinner to a small amount.

A low carbohydrate diet is advisable as it would help in losing weight and would manage the androgen levels also.

Drink plenty of water.

Keep the intake of dairy products low.
DO'S AND DON'TS FOR PCOS
1. Do regular physical exercise.
2. Eat a healthy and nutritious diet.
3. Maintain a menstrual calendar.
4. Do meditation and yoga.
5. Drink plenty of water.
DON'TS
1. Don't smoke
2. Don't take alcohol.
3. Don't eat unhealthy food.
4. Don't follow an unhealthy lifestyle.

5 MYTHS ABOUT PCOS
MYTH 1. CYSTS IN OVARIES HAVE TO BE THERE IN PCOS
PCOS is a syndrome and diagnostic criteria include at least 2 out of 3 symptoms- irregular periods, blood test suggesting high androgens and polycystic ovaries so its not necessary to have cysts in ovaries in every case of PCOS
MYTH 2. PCOS AFFECTS OVERWEIGHT FEMALES ONLY
PCOS is commonly associated with being overweight but it is not necessary that it can affect overweight females only.
MYTH 3. YOU CAN'T GET PREGNANT IF YOU HAVE PCOS
Although PCOS is arising as a primary cause of infertility it doesn't mean you can't get pregnant with PCOS. Some females get pregnant and never get to know about themselves suffering from PCOS. But this doesn't mean you should sit at home with the condition and wait. you should seek help as with time symptoms start getting more worse. Seek the help of the doctor, take homeopathy and modify your life and get over with the disease. You can get pregnant with the correct treatment.
MYTH 4. PCOS IS A RARE CONDITION
PCOS is not a rare condition as it is affecting 1 out of 5 young females now. It is a leading cause of infertility in females and is affecting many more in many different ways. 70% of young females remain undiagnosed with the condition.
MYTH 5. IF YOU LOSE WEIGHT THEN YOU CAN GET RID OF PCOS
PCOS can be managed by losing weight by can't be cured by it. You certainly need medication to get rid of it.